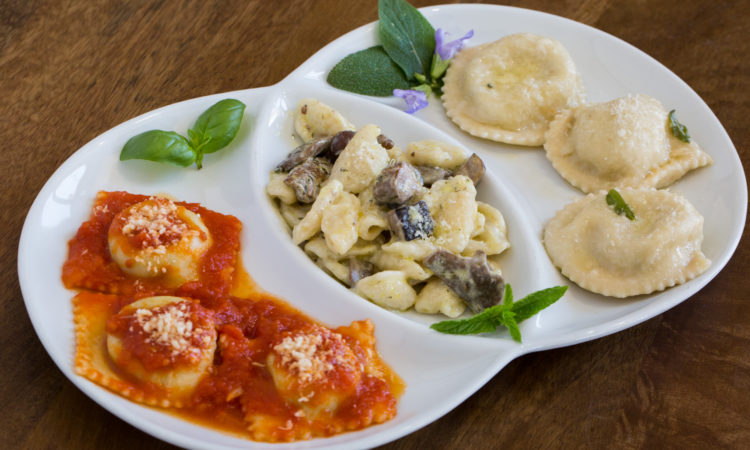 Coperto-Service | 2,00€
Antipasti terra
– Caprese   |   8,00 €
tomato, mozzarella and basil – 7
– Prosciutto e melone   |   10,00 €
Parma ham and melon
– Misto di salumi e formaggi nostrani   |   15,00 €
Mixed cured meats and cheese
Antipasti mare
– Fantasia di mare   |   17,00 €
Mixed seafood salad  – 1-2-4-14*
– Gamberi fritti su letto di cipolle* caramellate e salsa yogurt   |   13,00 €
Fried shrimp with caramelized Tropea onions and sauce yogurt- 2-4-1-7*
– Carpaccio di spada agrumi e menta   |   12,00 €
Swordfisch carpaccio with citrus and mint – 4
– Crostini misti al salmone e alici   |   9,00 €
Toast mixed with salmon and anchovies Fried shrimp with caramelized Tropea onions and sauce yogurt
– Insalata di polpo   |   13,00 €
Octopus salad – 14
Primi terra
Pasta fresca fatta in casa (home made pasta)
–Gulurgiones burro e salvia   |   13,00 €
Typical Sardinian fresh pasta stuffed with pecorino, potatoes and mint with butter and sage. 1-7-3
–Pasta fresca ai funghi   |   11,00 €
Fresh pasta with mushrooms 1-3-7*
–Ravioli di formaggio al pomodoro   |   13,00 €
Traditional pasta stuffed with pecorino cheese and chard with tomato sauce 1-7-3
–Pasta fresca alla sarda   |   11,00 €
Fresh pasta with sausage sauce 1-3-7*
–Trofie all'ortolana   |   10,00 €
Trofie (fresh pasta) with vegetables – 1*

Classici
– Spaghetti al pomodoro   |   7,00 €
Spaghetti with tomato sauce 1
– Penne all'arrabiata   |   8,00 €
Penne with spicy sauce 1
– Penne all'ortolana    |   9,00 €
Penne with vegetables 1
– Spaghetti Carbonara   |   10,00 €
Spaghetti with with eggs, bacon and cheese 1-7-3
Primi mare
Pasta fresca fatta in casa (home made)
– Ravioli di mare con bottarga e pomodorini   |   16,00 €
pasta stuffed with octopus, cuttlefish, shrimp and potatoes with bottarga and cherry tomatoes 1-2-3-4-14*
– Pasta fresca con salmone e caviale   |   12,00 €
Fresh pasta with salmon and caviar – 1-4-3*
– Pasta fresca zucchine e gamberi   |   14,00 €
Fresh pasta with zucchini and shrimps – 1-3-2*
– Trofie con pesto di pistacchi e bottarga   |   13,00 €
Fresh pasta with zucchini and shrimps – 1-8-4*

Classici
– Risotto alla marinara   |   15,00 €
Risotto with fishsauce 1-2-3-4-14*
– Spaghetti allo scoglio   |   14,00 €
Spaghetti with fishsauce 1-2-3-4-14*
– Spaghetti alle vongole   |   13,00 €
Spaghetti with clams 1-14-4
Secondi terra
– Misto di carne alla griglia con  insalata    |   15,00 €
Mix grill meat with salad
– Salsiccia alla griglia con patatine fritte    |   10,00 €
Grilled sausage with chips
– Carne impanata con patatine fritte    |   12,00 €
Breaded meat with chips – 1-3
– Filetto di vitella al pepe con verdure grigliate    |   18,00 €
Pepe veal fillet with grilled vegetable
Secondi  mare
– Gamberoni al brandy e pomodorini    |   16,00 €
Brandy prawns and cherry tomatoes 2*
– Filetto di orata gratinato alle erbe    |   14,00 €
Fillet of sea bream an gratin with herbs 4*
– Grigliata mista di pesce    |   18,00 €
Mix grill fish 2-4-14*
– Pesce Spada alla Griglia    |   14,00 €
Grilled swordfish 12-4*
–Calamari e seppie all'arrabiata    |   12,00 €
Squid with spicy sauce 14*
– Frittura Mista di pesce    |   16,00 €
Mix friedfish 1-2-4-14*
– Calamari fritti con contorno di patatine    |   14,00 €
Fried squid with chips 14-1*
Contorni
–Verdure grigliate    |   5,00 €
Grilled vegetables
–Insalata mista   |   4,00 €
Mixed salad
–Pomodorini e basilico   |  40 €
Tomatoes and basil
–Patatine fritte   |   5,00 €
Chips
Dessert
Della casa
– Tiramisù della casa   |   5,00 €
Home made Tiramisù 1-8-3
-Macedonia di frutta   |   5,00 €
Fruit salad
– Seadas   |   5,00 €
Typical dessert: fried pasta stuffed with fresh cheese 7-3-1
– Cheese cake    |   5,00 €
Chocolate cheese cake 1-8-5-3-7
– Semifreddo al cioccolato e nocciole   |   5,00 €
7-1-8
– Crema catalana   |   4,00 €
7-1
Gelati
-Tartufo bianco o nero   |   4,50 €
Vanilla and coffee or chocolate and creamice cream 1-3-7-
-Tartufo affogato al caffè   |   5,50 €
Vanilla and coffee or chocolate and creamice cream Coffee-drowned 1-3-7
-Sorbetto al limone   |   3,00 €
Lemon sorbet
– Guscio al cocco   |   5,00 €
Coconuticecream 1-8-5-3
Carta dei vini
Vino sfuso-bulk wine
Rosso- Bianco- Rosato
Red-white-rosé
¼  di litro   |    3,00 €
½ litro         |    5,00 €
1  litro          |    9,00 €
Vino in bottiglia – Bottledwine
Rossi/red
– Icorè   |   14,00 €
Cantina di Dorgali –  canonau DOC
– Turcalesu   |   18,00 €
Cantina Berritta Dorgali – canonau DOC
– Don Baddore   |   28,00 €
Cantina Berritta Dorgali – canonau DOC
– Costera   |   16,00 €
Cantine Argiolas Serdiana – Canonau Doc
– Mamuthone   |   22,00 €
Soc.Agr.Sedilesu Mamoiada – Canonau DOC
– Carda nera   |   20,00 €
Cantine Argiolas Serdiana – Carignano del sulcis DO
Bianchi/white
– Filine   |   14,00 €
Cantina dorgali – Vermentino DOC
–Costamolino   |   16,00 €
Cantina Argiolas Serdiana – Vermentino DOC
–Iselis   |   20,00 €
Cantina Argilas Serdiana – Nasco di Cagliari DOC
-Karmis   |   22,00 €
Cantina Contini Cabras (OR) – Cuvèe
-Funtanaliras   |   18,00 €
Cantina Monti – Vermentino DOC
Tutti i vini contengono l'allergene 12
Allwinescontain the allergen 12
Elenco allergeni:
1 Glutine – Gluten
2 Crostacei e derivati – Crustaceans and derivatives
3 Uova e derivati – Eggs and derivatives
4 Pesce e derivati – Fish and fish products
5 Arachidi e derivati – Peanuts and their derivatives
6 Soia e derivati – Soy and derivatives
7 Latte e derivati – Milk and dairy products
8 Frutta a guscio – Nuts
9 Sedano e derivati – Celery and celery derivatives
10 Senape e derivati – Mustard and derivatives
11 Semi di sesamo e derivati – Sesame seeds and derivatives
12 Anidride solforosa solfiti – Sulphur dioxide sulphites
13 Lupino e derivati – Lupine and derivatives
14 Molluschi e derivati- Molluscs and derivatives


Attenzione:
Segnalare sempre intolleranze o allergie alimentari al personale  chesaprà mettervi in condizione di evitare i generi che contengono prodotti ai quali siete allergico od intollerante. Non si escludono contaminazioni crociate. L'asterisco * indica che il prodotto potrebbe essere congelato.
Warning:
Always report food intolerances or allergies to staff that will put you in a position to avoid the kinds that  contain products to which you are allergic or intolerant. Cross-contamination is not excluded. The asterisk * indicates that the product could be frozen